The Strong Coupling with Organic Molecules (SCOM) 2023 conference will be held in La Jolla, California, USA on June 20-22, 2023.

The conference will be held at the University of California San Diego. The 4th edition of this conference aims to bring together experts on strong coupling between molecular materials and optical micro- and nanocavities to discuss exciting frontiers of research at the interface of Chemistry, Physics, Materials Science, and Engineering. Topics that will be covered include:
Polariton photophysics and photochemistry
Vibropolaritonic (thermally-activated) physics and chemistry
Room temperature polariton condensation
Ultrafast spectroscopy of molecular polaritons
Classical and quantum information processing with molecular polaritons
Polariton band structure engineering
Novel materials for molecular polaritonics in the THz and IR
Looking forward to seeing you in La Jolla!
---
Program
Check out the exciting program we have planned for the conference!
Local organizers
Wei Xiong (UCSD, USA)
Joel Yuen-Zhou (UCSD, USA)
e-mail: scom23@ucsd.edu
Conference organizing Committee
Bill Barnes (Exeter, UK)
Francisco Garcia-Vidal (UAM, Spain)
Javier Aizpurua (UPV, Spain)
Jaime Gomez Rivas (Eindhoven, Netherlands)
Conference assistants
Carmen Alfaro (UCSD, USA)
Julia Anderson (UCSD, USA)
REGISTRATION IS OPEN!
Please make sure to complete the two parts of the registration. The deadline to complete both parts has been extended to MAY 1, 2023.
PART 1: REGISTRATION FORM
Please complete the Google form (personal data and abstract submission) below.
PART 2: REGISTRATION FEE COLLECTION
Registration fee is $300 USD for all participants and will be collected in the Eventbrite link below.
---
Wei Bao (University of Nebraska Lincoln, USA)
Karl Borjesson (Gothenburg, Sweden)
Lev Chuntonov (Technion, Israel)
Hui Deng (UMichigan, USA)
Adam Dunkelberger (NRL, USA)
Johannes Feist (UAM, Spain)
Chris Giebink (Penn State, USA)
Gerrit Groenhof (University of Jyväskylä, Finland)
Rainer Hillenbrand (UPV, Spain)
Libai Huang (Purdue, USA)
Pengfei Huo (URochester, USA)
Stephane Kena-Cohen (Polytechnique Montréal, Canada)
David Lidzey (Shefield, UK)
Maiken Mikkelsen (Duke, USA)
Shaul Mukamel (UCI, USA)
Andrew Musser (Cornell, USA)
Keith Nelson (MIT, USA)
Barbara Pietka (University of Warsaw, Poland)
Stephanie Reich (FU Berlin, Germany)
Raphael Ribeiro (Emory, USA)
Hartmut Roskos (Goethe Universität, Germany)
Aaron Rury (Wayne State, USA)
Tal Schwartz (Tel Aviv, Israel)
Timur Shegai (Chalmers, Sweden)
Blake S. Simpkins (NRL, USA)
Anton Zasedatelev (Vienna, Austria)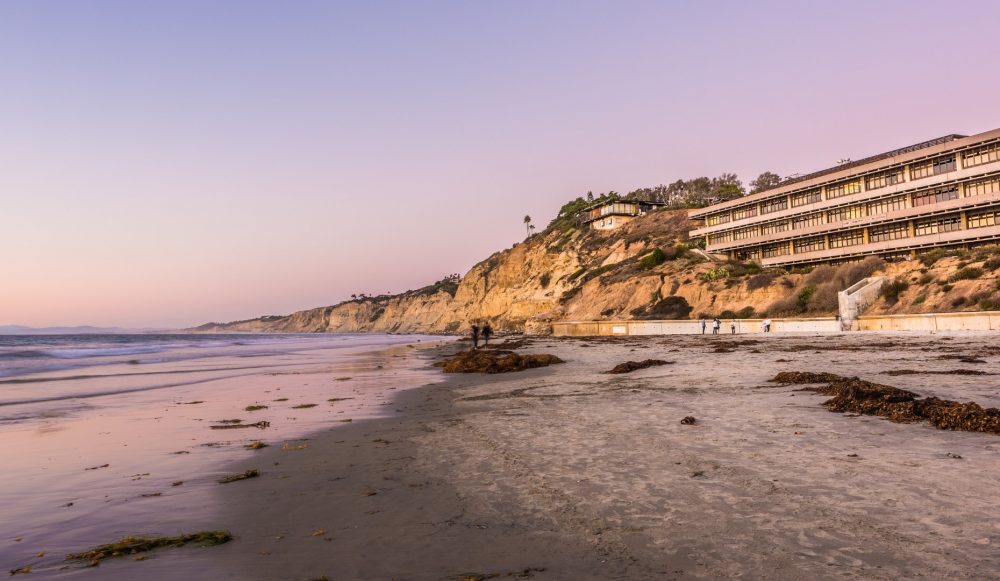 VENUE & TRAVEL
Getting here
The UCSD Campus La Jolla is 12 miles (20-30 min drive) from San Diego (SAN) international airport. La Jolla is a community located in the north of San Diego county which is renowned for hosting world-class beaches and academic research institutions. The conference will be held on the University of California San Diego campus, at the auditorium of Natural Sciences Building (NSB) Room 1205, which is located at Revelle College (southwest part of campus).
Public transportation &
Parking Facilities
Parking at UC San Diego can be difficult. We suggest you use a rideshare application or public transportation (buses, trolley). However, in case you decide to rent a car while in San Diego/La Jolla, the closest parking lot is South Parking Structure which has accessible parking. Parking lot, P101, much closer to NSB, has accessible parking too. The conference will not be providing parking spots for attendees, so you will need to pay the corresponding hourly fee in a Visitor (V) spot.
For details, view this link.
Accommodation
Unfortunately, owing to the size of the conference, we cannot provide accommodation for attendees in general.
Here is a comprehensive list of nearby hotels to the UC San Diego campus. The organizers are currently working on securing sponsorship to reimburse a subset of the expenses, but more information will be provided in the next few months.
---
PREVIOUS CONFERENCES
SCOM is in its 4th edition. Previous meetings were held in Europe.
SCOM 1 – October 2016, San Sebastián, Spain
SCOM 2 – April 2018, Eindhoven, Netherlands
SCOM 3 – April 2021, Gothenburg, Sweden (virtual)